by
John W. Herbert
I've reached the age where pretty soon now, it will be common for my friends and acquaintances to start dropping off. Fortunately, this hasn't begun yet, but what a sad and awful time it will be.
Almost as bad is the passing of people who were influences or heroes to me. My own personal gods. In the words of another late and lamented god, another one bites the dust.
Dr. Hunter S. Thompson took his own life yesterday, February 20, 2005. He was 67.
His journalism career began when he started moonlighting, writing the sports section for a local civilian newspaper while he was in the Air Force. (Ironically, his last book was a collection of sports-themed essays,
Hey Rube
.)
In the late 1960s, he embraced the counter-culture movement and was the on leading edge of the new "gonzo" journalism (named for a character in Thompson's
Fear and Loathing in Las Vegas
). In this new journalism, the authors and their opinions become part of the narrative written in an over-the-top style, and Thompson was a master of its form. Other works include
Fear and Loathing on the Campaign Trail
,
The Great Shark Hunt
,
Generation of Swine
, and
Better Than Sex
. He published one novel,
The Rum Diaries
, and was the inspiration for the character of Uncle Duke in the
Doonesbury
comic strip.
David Gerrold once noted the distinction between himself and Harlan Ellison. He described himself as a storyteller, and Ellison as a writer. Gerrold was adept at putting words in a pleasing order, while Ellison had mastered a craft.
Hunter was a
writer
.
Eloquent, angry, fierce, funny, and totally off the wall gonzo. Thompson spoke his mind with razor-sharp wit and venom. He spoke to the absurdity of life with absurdities of his own. No one could match Thompson in his bitter recitations of the decline of the American Empire. (Seek out his obituary of his nemesis Richard Nixon as a stellar example.)
His most famous work,
Fear and Loathing in Las Vegas
, published in 1971 and subtitled
A Savage Journey to the Heart of the American Dream
, was a requiem for the 1960s:
"There was no point in fighting -- on our side or theirs," he wrote. "We had all the momentum; we were riding the crest of a high and beautiful wave. So now, less than five years later, you can go up on a steep hill in Las Vegas and look West, and with the right kind of eyes you can almost see the high-water mark -- the place where the wave finally broke and rolled back."
Another wave is broken and the ocean claims its own.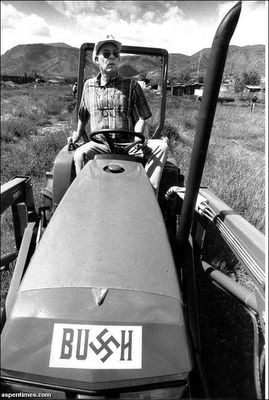 Hunter Stockton Thompson 1937 – 2005
Ralph Steadman remembers Hunter
here
.
Rolling Stone
reports on Hunter's passing
here
.
Kurt Loder comments
here
.
Democracy Now remembers Hunter
here
.
His local newspaper reports
here
.
More commentary on Hunter from
Counterpunch
,
MSNBC
, and others
here
and
here
. And
here
, too. As well as
here
.
More can be found
here
,
here
and
here
.
A 2003
interview
with Hunter.
Read a recent Hunter piece on the 2004 American election
here
.